Our new study has revealed the UK holiday destination with the least rain in October.
The research was conducted by comparing the average days of rain in October against the most popular holiday destinations in the UK. The top destinations were determined for having the least days of rain per month, meaning holidaymakers will have a better chance of a sunnier half-term holiday.
It was revealed that Brighton is the least-rainy holiday destination in October, with 10 days of rain on average. It was closely followed by Lowestoft and Eastbourne, which see 10 and 12 days on average respectively.
Below are the full results of the research: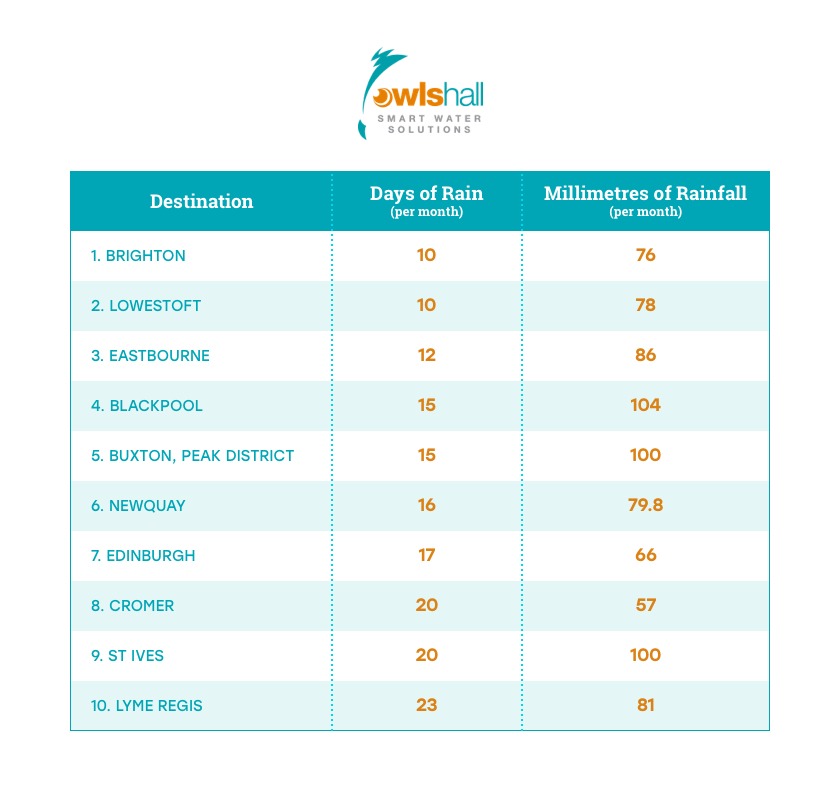 Brighton and Lowestoft each have 10 days of rain on average for October; however, Lowestoft saw 2 millimetres more rain on average, meaning Brighton came out on top. Holiday-goers can visit the famous Brighton Pier, have a drink in the i360 Observation Tower, or go for dinner at the modern Marina.
Eastbourne, the infamous filming location of Angus, Thongs and Perfect Snogging, has 12 days of rain on average. You can visit the miniature steam railway, or explore the tunnels at Newhaven fort.
In Lowestoft, you can visit Pleasurewood Hills Theme Park or get close to nature at Africa Alive. Just 10 miles along the coast is popular seaside destination Great Yarmouth, with great family attractions such as the Sea Life Centre and Pleasure Beach.
In the South West of England is Lyme Regis, which averages the most days of rain in October at 23 days. However, there is plenty to do on a rainy day – you can visit the Dinosaurland Fossil Museum or take a trip to the Town Mill.
Head to the North West coast and you'll find the original Pleasure Beach in Blackpool, as well as the Blackpool Tower, facing a potential of 15 days of rain. If you're looking for a city break, Edinburgh averages 17 days of rain in October and there are many beautiful attractions to visit on both rainy and dry days.